EXHIBITIONS / PROJECTS
PUBLIC CONSIDERATIONS,
A SYMPOSIUM IN THREE ACTS
(2010/2011) project
Description: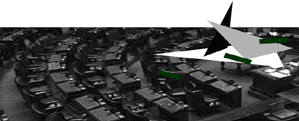 ACT III - E.M.A.N.C.I.P.A.T.I.O.N.
PARLIAMENT AUDITORIUM
Date: June 21, 2011, 2 to 8 pm
Location: Auditorium of Argentinean Parliament/Congreso Nacional, Plaza Congreso
Ciudad Autónoma de Buenos Aires
Public Considerations, a Symposium in Three Acts is an exercise that presents a double status of existence, creating a form of the public sphere within the city's political scenarios and enabling these scenarios to transform themselves into mechanisms of investigation.

More info

(see Act1)
(see Act2)

Act 3
2-8pm

12 invited projects
round tables distributed throughout the auditorium
30 participants
live percussionists
1 flag measuring 11x2m, PAINTED during the symposium
hundreds of graphic printed projects

Participants:
Not Made in China, Iconoclasistas, Laboratorio Audiovisual Comunitario, La Dársena Platform for Artistic Action and Thought, Underground Magazine, National Art Institute (IUNA), Callejero Art Group, Mujeres Públicas, Artes Visuales con Cristina, La Tribu Collective, Laboratory of Investigation into Contemporary Artistic Practice (LiPAC, 2010 participants and database group). Flag production: Karina Granieri and Agustín Blanco. Live music: Horacio López Percussion Workshop participants and Alejandro Oliva from Ricardo Rojas Cultural Centre. Moderator: Natalia Rizzo
E.M.A.N.C.I.P.A.T.I.O.N. A flag interrupts the structure of the auditorium - the representational space of discussion and debate that favors 'a scene' - to present different points (tables) of work and debate (including the lobby), multiplying and distributing the flow through displacements in different areas of the auditorium and through different subjects. Each table and each debate is developed autonomously with respect to the rest, but at the same time establishes bridges for integration.

Round Tables:
EDUCATION, TERRITORY, RIGHTS (human, employment, gender, leisure), INTERNET AND FREE MEDIA, PROPOSALS FOR PUBLIC POLICIES, LOCALIZATION OF HEGEMONIES, SOCIAL PROTECTION FOR ARTISTS (PENSION, FEES, HEALTH INSURANCE), NEW MODELS.
This map alters, multiplies and distributes the flow of discussion and exchange, with total autonomy and simultaneity.
E.M.A.N.C.I.P.A.T.I.O.N. is painted letter by letter in parallel with the debates, and the percussionists accompany the tone of the exchanges.
The aim: to map emancipatory processes that allows the public to think and act independent of the logic of capitalism. What debates are we obliged to present among ourselves as distinct representatives of art, counterculture, activism and self-organization?

http://consideracionessobrelopublico.blogspot.com/
A project produced by LiPac Laboratorio de Investigaciones en Prácticas Artísticas Contemporáneas

Centro Cultural Rojas – UBA