EXHIBITIONS / PROJECTS
MY BOOTY
(Art & Capital series)
video/collage/installation

MY BOOTY (remapping) collage, 100 x 70 cm, 2006
Topologies solo show, Demare Gallery, Rotterdam, 2008

MY BOOTY (video)
2002
mdv, 6", mono channel streaming, 2006
Intermodem exhibition, Modem Center of Modern and Contemporary Art, Debrecen/Hungary, 2008
Resplandores, exhibition, Curators Rodrigo Alonso y
Graciela Taquini, Centro Cultural Recoleta, Buenos Aires, 2007
Intermodem, Intermedia Festival, Modem Center of Modern and Contemporary Art, Debrecen/Hungary, 2007
Video Arte Club, exhibition, Curator Cristian Segura, Florencia Loewenthal Gallery, Santiago de Chile, 2007

MY BOOTY (installation) paintings, printed word document and sticker, Centro Cultural Rojas, Buenos Aires
1997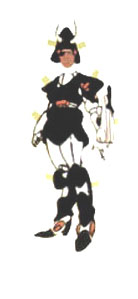 My booty investigates what is valuable and how an object can become a status symbol. (This research is inspired by the Victoria & Albert and British Museum collections).
According to Wikipedia, "The traditional meaning of booty is something both valuable and acquired by force or daring. The proceeds of criminal activity are sometimes referred to as booty, especially from piratical exploits. Historically, booty included plunder (from an enemy), loot (from piracy), or a prize (won by daring)".
My Booty focuses on the notion of "CULTURAL PRODUCTIONS" and produces a new reading of this concept. My Booty re-appropriates books, images and data from famous collections of bowls, vases, guacos, porcelains, ceramics and glasses, by means of collage, cultural-video and painting on canvas.
The pieces are the patrimony of different collections and museums and their origins range from imperial collections to Bauhaus pieces