ARTWORKS / PROJECTS
MINIGARDEN
Social Sculpture
since 2005
Iron structure, plastic tray, soil, seeds, vegetable and fruit plants, metal shovel and watering can.
Dimensions vary
Minigarden in the Contemporary Art Gallery, dispari & dispari gallery, Reggio Emilia, 2009
Minigarden in the Office of the Director - Conversaciones en Alice Ville, Museo de Arte Contemporáneo de Posadas, 2006
Minigarden in the Administrative Office - Alice Ville, Museo de Arte Contemporáneo de Rosario, 2005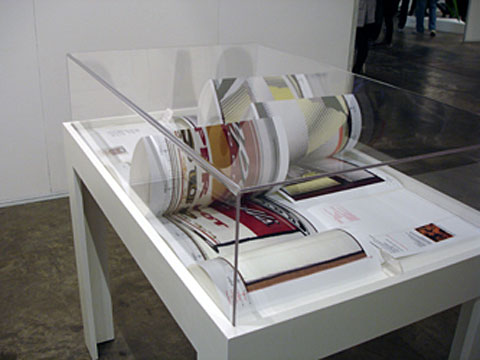 Description:
The plants are maintained by those working in the museum. Finally the vegetables and fruits are eaten. The audience can plant and water in situ or can take plants or seeds for external activity and ingestion. These moments extend the sculpture in time and space.
The piece is accompanied by a list of instructions.
Vegetables and fruits have included: lettuce, arugula, chard, pumpkin, strawberry, melon, cauliflower, cabbage and fennel.

INSTRUCTIONS
CONVERSAZIONI
dispari & dispari project
MINIGARDEN IN THE CONTEMPORARY ART GALLERY, dispari & dispari gallery, Reggio Emilia, 2009
YOU ARE INVITED TO PARTICIPATE IN THE FOLLOWING ACTIVITIES IN EXCHANGE FOR PLACING A YELLOW CARD WITH YOUR NAME IN THE PART OF THE GARDEN WHERE YOU HAVE BEEN INVOLVED:
1. WATERING A PLANT
2. PLANTING
3. DIGGING UP A PLANT TO TRANSPLANT
4. CARING FOR A PLANT
5. CONSUMING A PLANT
REGISTER (IN VIDEO OR PHOTOGRAPHS) THE GROWTH AND CONSUMPTION PROCESS.
SEND DOCUMENTATION TO:
dispari@gmail.com