EXHIBITIONS / PROJECTS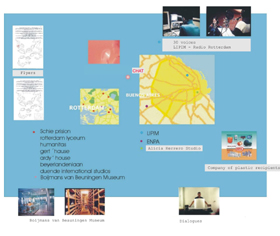 CHAT/CHATTEN
2000-01
Instalation-mise en scène of talking objects
Commisionaded by Boijmans van Beuningen Museum, Rotterdam

Show: Meeting Places
Chat had presented since December 12, 2001 to February 24, 2002, at project Meeting Places in collaboration with Art Apply Department in the frame of Unpucking Europe.
website
Chatten opens an ongoing process title Conversations. It explores the rhetoric of the art collection and the museum as container of valoe´s artifacts and producer of narrative, belief and patrimonial pathos. It develops the construction of a collections as mise-in-scène.
Conversations deconstructs the rhetoric of the art collection and the museum as container of valoe´s artifacts and producer of narrative, belief and patrimonial pathos.
Conversations submits these attributes to an experiment, infiltrate its with: several levels of reality, social activation processes and forms of self-institutionalization.
The notion of collection, the artifacts and displays, the roles of those who are actively involved in these mechanisms and the special investigation about the notion of value, are deflect, staged and subjected to a process of permormatic and formal reversibility: convention -arbitrarily- drift.
Through the participation of necessary implicated (socials) actors (ANI), proposes the creation of scenarios to give rise to the contradictions and conflicts emergence. This potentiality works out the idea of collapse, escape and infinity.
Conversations proposes its own space-time to disseminate itself to areas and indeterminate times, resorts to communicational displays, to standards of exhibition and collecting, investigating overwhelm the points of departure and arrival.
Through the production of situations that explore the question of what is valuable or how an object or a group of objects transformed its status, the structure of the museum , the art gallery and social sectors of the city are exposed to a series of: talks, mise in scène, progressive meeting of stories, testimonials, objects and documents.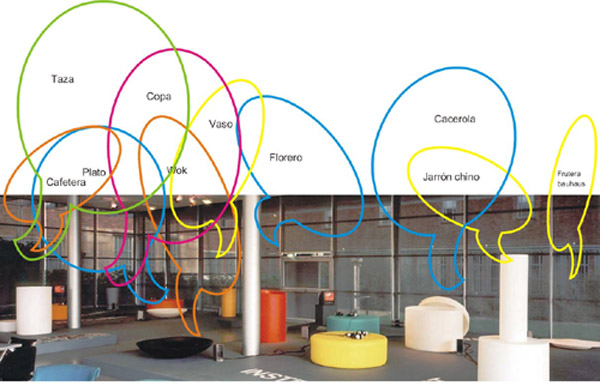 Description:

Chat are conversations between objects. These objects act -by mean of dialogues- testimonies of the Rotterdam community members and documents from the collection pieces of Boijmans Museum Art Apply Department.
PERFORMERS (voices):
CHINESE VASE: JORGE ARIETO - POT: SOLEDAD BARBIERIS - CUP: REGINE BERERMAYER - FLOWER VASE: CARLOS BORZI - DISH: CESAR BORZI - CHINESE VASE: CIRO CAVALLOTTI - COFFE POT:ANDRE DAS - COPA: FLOR DAUTREY - FRUIT DISH: HERMINE DEURLOO - CACEROLA: JANNEKE DEURLOO -PLATO: MARTÍN DIAZ- COPA: MILAGROS GALLO - PLATO: CARLOS GARCIA - WOK:SARA HAND - PLATO: GERARD HOFFMAN - WOK: ANA KNOBEL SZCHUMACHER - PLATO: GABRIEL LAGO - VASO: JAVIER LEICHMAN - VASO: SEBASTIÁN LINERO - COFFE POT: INGRID MIGELSON - GLASS: JACQUES MOENEN - PLATO: REEM MOEYES - WOK: ARNOLD MOEYES-MOENEN - VASO: JEROEN OFFERMAN - FLORERO: PABLO PEREZ - FRUIT DISH: CARINA TORRIGLIA - CHINESE VASE:TOM VAN GENDEREN - COFFE POT: THAIS ZUMBLIK
Pablo Perez: playwriter
Horge Haro: talking-sound
Leandro Fresco: sound video
CHAT IS COMPRISED OF:
-10 (3d) schemes of plastic kitchen vessels with whose scale has been increased to nearly human dimensions, more ten speakers, one for each vessel, with a human voice.
-Two video monitors
- Ambient sound in real time in the presentation space ( installed in an ample social space (10 x 20 meters).
- Several circular industrially colored seats were incorporated to invite visitors to sit, look and listen.
Each one of the ten recipients has an associated speaker, a voice, and these voices are perceived spatially.
The sensation that the objects converse among themselves is created through an artifice in the daily events of the De Vriese Pavillion. They are recipient-emitting. The video is the action from a juggler performed that is situated between manual dexterity and chance.
PROCESS
Through the device of amplification and projection unfolding procedures taken from art, games, industrial systems.
Chat is a project from artistic residences in Rotterdam (3 months in Duende and 3 months in Kaus Autralis).
The project beginning with a black and white flyer (20 x 30 cm) with dotted-line drawings of various recipients used for eating or from the kitchen. They was distributed from different locations in the city of Rotterdam. The people were invited to participate by mean of choose one of the items and complete it with stories, drawings or images, other people asked interviews. 80 testimonies were collected.
In collaboration with the artist Gert Rietveld we design a flyers-game to internet: jueguito. This game invited to choose, to paint and to tell a story about dishes or similar.
The testimonies were organized by mean of performatical dialogues by the writer Pablo Pérez. He constructed groups of stories according to the type of recipient. He created the identity of each piece with all stories.The dialogues were interpreted by 25 voices, recorded, edited and synchronized by the net artist Jorge Haro. The musician Leandro Fresco realized the sound for the video projection.
Containers and recipients (high density polyethylene) in different sizes for different uses ( to store foodstuffs, chemicals, etc.) were adapted with minimal interventions to the schematic dishes, to resemble the images selected by the people in Rotterdam and those from the museum's collection.
The artist Tamara Stuby designed a website to document the work in progress, the audience could sail the site in the exhibition room.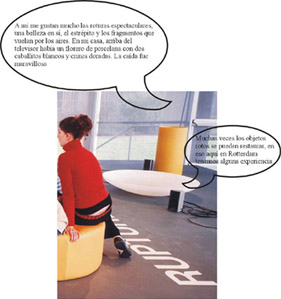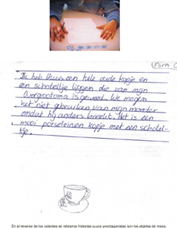 Flyer e.g.
One de the 80 testimonies