EXHIBITIONS / PROJECTS
THE PARADIGM CONFINES TOUR
Magazine in Situ
The End of the World Biennial
Ushuaia - Patagonia
2007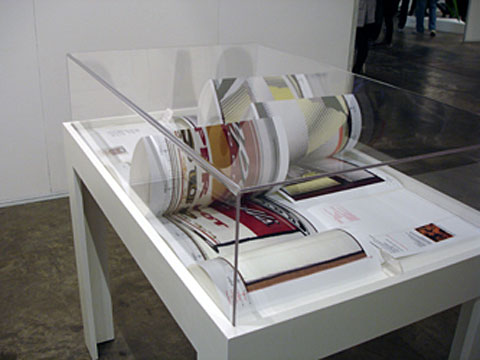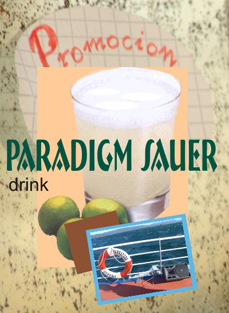 More info:
Magazine in Situ
Description:

Over three hours, THE PARADIGM CONFINES TOUR navigates the same circuit that Charles Darwin sailed in 1831 on the expedition of the brig HMS Beagle, on which he created his famous Theory of Evolution.
Duration: 3 hours
Boat: Barracuda
Departure: Saturday 31 March, 2 pm Ushuaia Port - Patagonia - Argentina
LOCATION
Beagle Channal
Argentinean/Chilean Border, meeting of the Atlantic and Pacific Oceans, 600 miles from Europe (Falkland Islands - United Kingdom).
Ushuaia – Patagonia – Argentina – Latitude/Longitude 54°48'S 68°18'W
One of the daily activities of the city—a tour on the boat Barracuda (built in 1940) through the natural beauties of the Patagonian landscape—was on this occasion transformed into a trip along the route traveled by Charles Darwin. For three hours, the Paradigm Confines Tour turned the entire ship, its crew and the landscape into participants in a sailing mise-in-scène.
The Tour offers options such as: creating a transnational document (Transnational Republik), participating in a symposium (Ali-Brouchoud, Jaio, Zaccagnini, Burns, Iregui, Herrero), listening to music (Raquel Garbelotti, Wagner Morales y Carla Zaccagnini ), reading (Smithson, Alÿs, Rolnik, Barriendos, several publications), bringing out an NBP by Ricardo Basbaum and drinking a Paradigm Sour (the tour's special drink) while contemplating the landscape from the prow of the ship.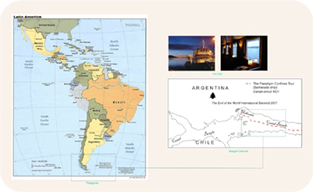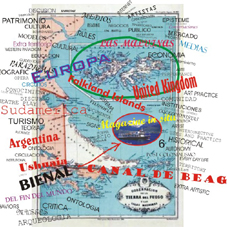 poster