ARTWORKS / PROJECTS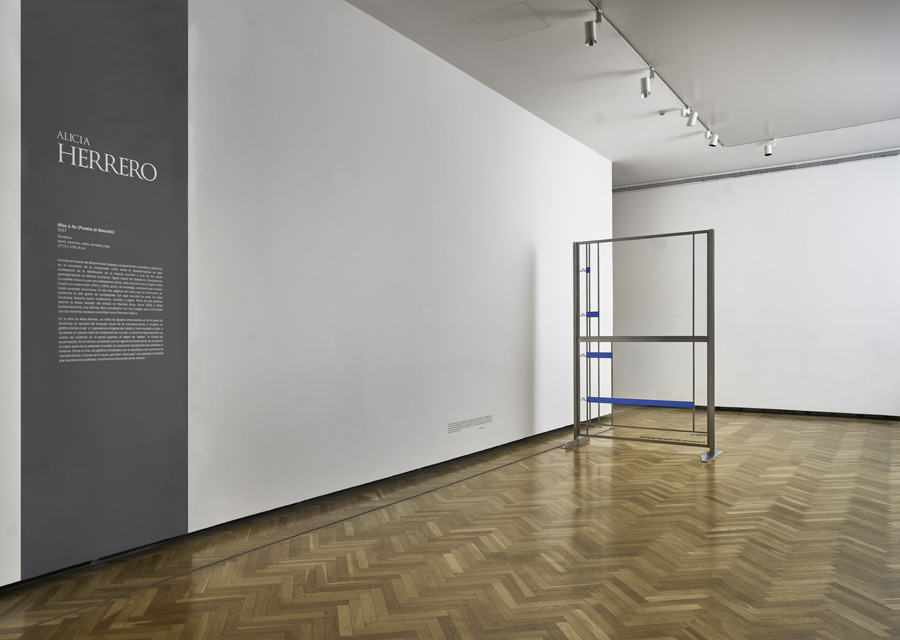 Museo Nacional de Bellas Artes / ph Lowry Fine Arts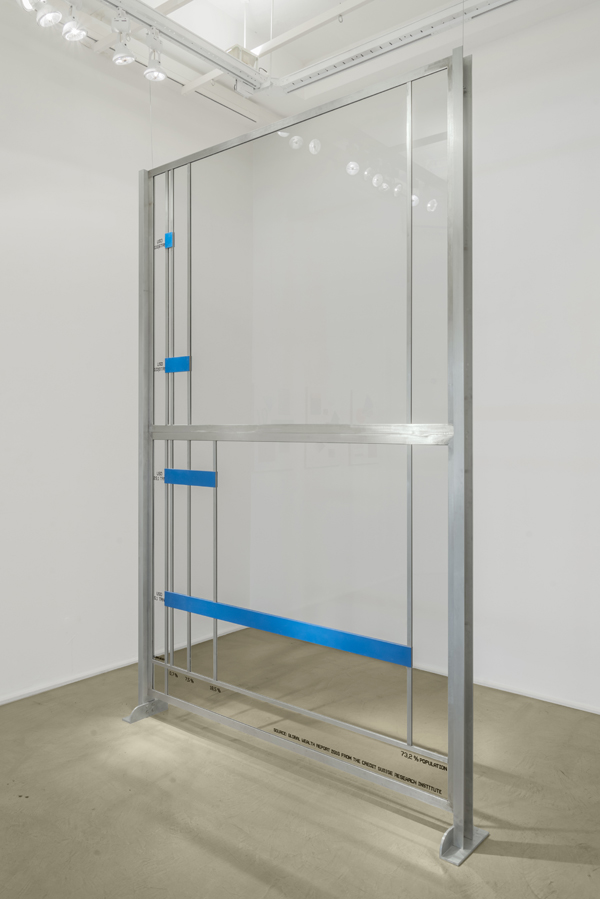 Courtesy Henrique Faria / Ph Estudio Giménez. Duhau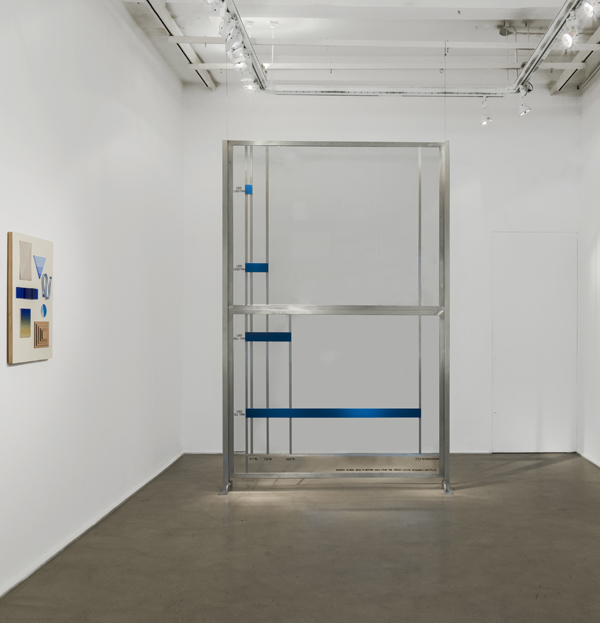 Courtesy Henrique Faria / Ph Estudio Giménez. Duhau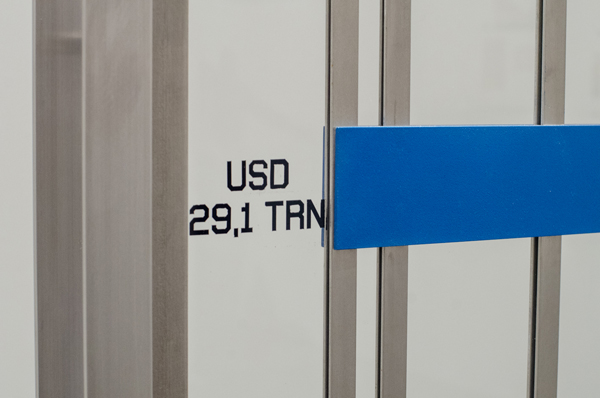 Courtesy Henrique Faria / Ph Santi Ortis


Included in the Alicia Herrero "Displays, equipment and furniture" series, Mise à Nu is the result of
the unexpected union between the representation in Cartesian axes of the distribution of world wealth
and one of the paradigmatic works of Marcel Duchamp, a major figure in international Dadaism. The
mariée mise à nu par ses célibataires même, better known as The Big Glass, occupied its author between
1915 and 1923, who, however, considered that the piece had been left unfinished. on all three pages
of notes that are preserved, the high degree of complexity with which he conceived the work is evident. In
In them, Duchamp discusses measurements, scales and rulers. Part of that process encompassed the brief
artist's stay in Buenos Aires, between 1918 and 1919. Incidentally, his last days coincided
with the strikes that would culminate in the violent events known as Tragic Week.
In Alicia Herrero's work, a glass of equal dimensions to that of the Duchamp piece appropriates the
visual language of macroeconomics, and shows a graph where the y-axis represents income per
capita worldwide and the "x" axis symbolizes the total number of inhabitants of the world. the huge
disproportion thus becomes evident: in the upper panel, the object of "desire", the core of
accumulation. At the bottom, dragged along by financial algorithms, is most of the
world population, the disciplined machinery that sustains the system. Like art, graphics
used by statistics are systems of representation. Through the visual, they allow
"undress" an uncomfortable reality, which political and economic discourses frequently obfuscate.

Por Mariana Marchesi

Artistic director Museo Nacional de Bellas Artes

Curatorial text of individual show at Henrique Faria gallery 2017


THE MYSTERY OF MEASUREMENTS AND EXCESSES (desbordes) by Gonzalo Aguilar, catalogue of solo show at Henrique Faria gallery, november 15/december 27 /2017.
Critical articles

HERRERO, PRIOR Y PUZZOVIO: OTROS TRES EMBLEMAS DEL MEJOR ARTE, Laura Feinsilber / Diario Ámbito, Edición impresa, 10/01/2'22

PREMIOS TRAYECTORIA: UNA MUESTRA PARA CONOCER EL TRABAJO DE OCHO MAESTROS, María Paula Sacharías, / Diario La Nación / Cultura, 04/12/2021

PREMIOS A LA TRAYECTORIA, CON EL POTENTE RUMOR DE LOS 60, Gabriel Palumbo, Revista Ñ /Clarín Sábados, 23/12/21

LA ESTÉTICA DEL DESEO EN LA ERA DE LAS MÁQUINAS [THE AESTHETICS OF DESIRE IN THE MACHINES AGE] by Ana María Battistozzi, Revista Ñ /Clarin, saturday 31/12/2017

CUESTIÓN DE ESCALA [SCALE QUESTION] by Laura Rosso, Pagina 12, friday 22/12/2017
UN VIDRIO LLENO DE GENTE [A GLASS FULL OF PEOPLE]by Laura Isola, Perfil Culura/Arte, sunday 17 /12 /2017

MARCEL DUCHAMP EN BUENOS AIRES: HUELLAS DE UNA VANGUARDIA INVISIBLE [MARCEL DUCHAMP IN BUENOS AIRES: FOOTPRINTS OF AN INVISIBLE AVANT-GARDE] by Fernando García, La Nación /Cultura, sunday 10/12/2017

EL ARTE, EL FEMINISMO Y LOS GRANDES RELATOS. El lugar subordinado de las mujeres en el espacio social del arte es tematizado en muestras críticas.[ART, FEMINISM AND GREAT STORIES The subordinate place of women in the social space of art is thematized in critical exhibitions] by Daniela LucenaRevista Ñ, saturday 31/12/2017

UNA MUESTRA PARA PONER EN VALOR EL DISENSO[AN EXHIBITION TO PUT IN VALUE TO THE DISSENT] by Jessica Fabaro, TN, 2/12/2017

LA MEDICIÓN, QUE SIN DUDA ESTÁ EN EL ORIGEN DE LA POLÍTICA Y DE LA ECONOMÍA, TAMBIÉN LO ESTÁ EN EL ORIGEN DEL ARTE [(THE MEASUREMENT, WHICH WITHOUT DOUBT IS IN THE ORIGIN OF POLITICS AND ECONOMY, IS ALSO AT THE ORIGIN OF ART], about individual show: A theory of Distribution, Ramona magazine, november 2017

LA MEDICIÓN, QUE SIN DUDA ESTÁ EN EL ORIGEN DE LA POLÍTICA Y DE LA ECONOMÍA, TAMBIÉN LO ESTÁ EN EL ORIGEN DEL ARTE, Ramona magazine, noviembre 2017

ALICIA HERRERO. EL MISTERIO DE LAS MEDIDAS Y LOS DESBORDES, artishock review07/12/2017

ALICIA HERRERO. UNA TEORÍA VISUAL DE LA DISTRIBUCIÓN, artehispano, review.

nore information:
Bibliography
Description:


Mise à Nu crosses the celebrated Marcel Duchamp artwork: "La mariée mise à nu par ses célibataires, meme" (known as the Great Glass) with the Cartesian representation that indicates the distribution of world wealth in 2016 (according to the latest information from " the pyramid of world wealth "of the Research Institute of Credite Suisse (Switzerland).

It collisions the transparencies and opacities of this celebrated artwork from Marcel Duchamp, with the invisible and abstract conditions of the real financial architecture transcendence.