ARTWORKS / PROJECTS
GLOBAL CONCENTRATION
sculpture
wood, iron, paint
140 x 140 x 57 cm
2018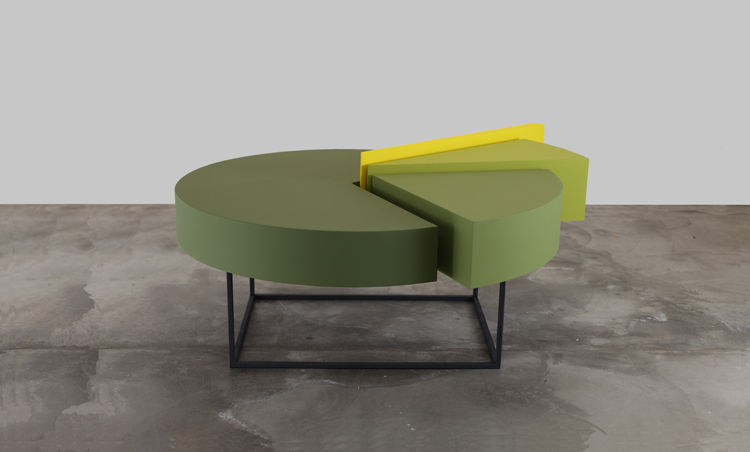 Description:

GLOBAL CONCENTRATION II interprets a pie chart about the global wealth concentration according to 2017.

The piece is part of a group of works that use the language of the indicator graphs like bar graphs, pyramids of wealth, pie charts, etc. This series of works interpellates the gravitational dimension of the economy on our existential conditions. Their ways of being between our bodies, their infinite material and symbolic capacity of enchantment, their experimental and project power on a global and transhistorical human scale.

exhibition Democracia en obra
CCK
Buenos Aires
2018
More information: http://www.cck.gob.ar/eventos/democracia-en-obra_2715

PRESS
Newspaper Página 12 / Fabián Lebenglik
https://www.pagina12.com.ar/119372-sobre-logros-y-cuentas-pendientes

Newspaper Perfil / Laura Isola
http://www.perfil.com/noticias/cultura/la-democracia-considerada-como-un-work-in-progress.phtml


* Local Artists Hugo Aveta, Franco Basualdo, Amaya Bouquet, Martín Carrizo, Chiachio & Giannone, Andrés Denegri, Juan Carlos Distéfano, Eduardo Gil, Karina Granieri, Grupo Etcétera, Carlos Herrera, Alicia Herrero, Liliana Maresca, Gustavo Marrone, Marta Minujín, Mondongo, Luna Paiva, Margarita Paksa, Federico Manuel Peralta Ramos, Cristina Piffer, Liliana Porter, Mica Priori, Liv Schulman, Pablo Suárez, Horacio Zabala.
* International Artists: Pierre Ardouvin (Francia), Yael Bartana (Israel), Emilio Chapela (México), Regina José Galindo (Guatemala), Marco Godinho (Portugal/Francia), Voluspa Jarpa (Chile), Zaq Landsberg - Sofía Gallisá Muriente (Estados Unidos - Puerto Rico), Antoni Muntadas (España), Oliver Ressler (Austria), Pablo Uribe (Uruguay).